FAQ
Do you take my insurance?
One of the first questions we usually receive is, "Do you take my insurance?" Our answer that we work with most insurance companies, but in the end, it depends on the individual insurance plan that you signed up for. With rising deductibles and co-pays and almost endless plans within each insurance company, it's nearly impossible to determine this on your intial phone call.  We will, however, take your information down at your complimentary consultation and will, at no cost to you, verify your insurance benefits within the next 12-24 hours.
A good rule of thumb, although not 100% as there are variations and deductibles to consider, is that you will pay the amount listed on your insurance card under the "Specialist" co-pay.  Included below are a few generic examples with the "Specialist" amount highlighted in green: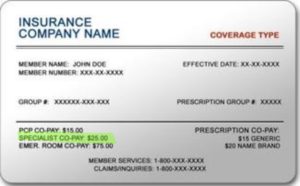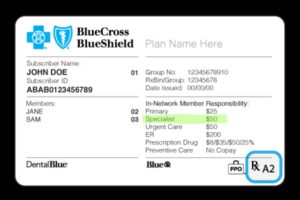 I don't have insurance, can I afford you?
While we don't know everyone's individual finances, we work with ChiroHealthUSA to legally implement a cash fee schedule that most people find affordable and in line with what many co-pays are today.
How long is each visit?
With over a quarter of a century of experience, Dr. John doesn't need a lot of time past the initial visit to determine exactly what needs to be addressed.  Your first visit will be about 30-45 minutes, and each visit after is 5-10 minutes.  That said, you will never feel rushed.
Is there usually a long wait time?
We at Structural Chiropractic value your time, as well as our own.  This is why we encourage new patients to fill out intake forms online so that the doctor has already had time to review them before you walk in the door.  All new patients are scheduled during off hours whenever possible to eliminate potential interruptions and to keep the office flowing smoothly.  As an existing patient, wait times are never more than 10 minutes, and usually less than that.
Will it hurt?
In some cases, you're coming into our office in pain.  The last thing you want is to feel more pain.  Dr. John understands this and is extremely gentle, while doing what he needs to do.  This is one of the reasons why we are known as "the home of the gentle adjustment."